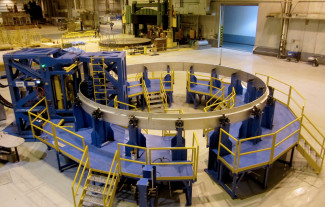 Article From NASA SLS Highlights March 2013 PDF
Originally Posted: April 5, 2013
Every month, SLS Highlights turns the spotlight on one of the industry partners helping to create the largest rocket ever built for human space exploration. In this issue, we profile Futuramic Tool & Engineering of Warren, Mich., north of Detroit.

Futuramic Tool and Engineering Co. was commissioned by Boeing of Huntsville, Ala., to design and build tooling for friction stir welding to assist in the construction of the Space Launch System core stage at NASA's Michoud Assembly Facility in New Orleans. The company made large capital investments and equipment upgrades at their Michigan location to accommodate manufacture of the massive tooling in support of the space program.

Founded in 1955, Futuramic designs and manufactures quality checking fixtures and inspection gauges. A full-service design and build company, Futuramic specializes in taking a customer's requirements and processing them through design, build, inspection, and installation to create a wide variety of engineered and machined parts.

For NASA's Space Launch System, Futuramic has delivered the Segmented Ring Tool, and is in the process of building the Girth Weld Tool, the Circumferential Dome Weld Tool, and the Plug Weld Tool. Essentially, they build the bits for the massive drill that is friction stir welding.