One of the largest Single Gantry CNC machines in the United States
The right tools for the job
The largest 5-axis high speed gantry in North America, Ingersoll's Cybermill®, is located right here at Futuramic. It's only one of the many advanced tools we utilize to design, build, fabricate, and manufacture machined parts. With the Cybermill, we can handle the very big projects in the aerospace industry, but big isn't all that we do. We have the advanced tools to handle a wide variety of projects, no matter the size. We utilize a full array of capital equipment, for all facets of fabrication and manufacturing. These are supported by Laser Tracker and large envelop CMM systems.
Select a category below to view our equipment.
Equipment » Manufacturing
Manufacturing that's a step above the rest
Quality from start to finish
Futuramic's manufacturing capabilities utilizes the best tools for the job. Our state-of-the-art capital equipment includes 30 CNC machines and the largest 5-Axis gantry mill in North America. There is no job that we can't handle from start to finish.
1 – Grisetti #800 Hydraulic ID Grinder 10"X6"
We're a cut above our competition
Futuramic's fabrication capabilities provide a complete solution from welding and cutting to metal forming. All our weld inspectors are AWS CWI Certified and our welders are qualified to AWS Standards. We have in-house training and qualification capability in all positions and in a wide range of materials.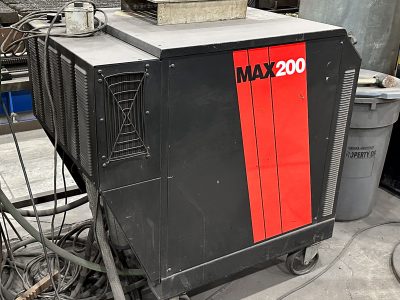 1 – Hypertherm Max200 Plasma Cutter
2 – Hypertherm Max100 Plasma Cutter
Material Size – 48" wide 3/8" height
1 – H-Frame Hydraulic Press
2 – Gantry Frame Hydraulic Press
1 – Blanchard Surface Grinding Machine
42" Dia. X 22" Capacity
6 – Stationary Grinding & Sanding Machines
2 – Bridgeport Vertical Mill
Up to 14 Ft. X 28 Ft. Planed Surface
Checked to meet the highest specification
Futuramic employs a wide array of the latest laser trackers and large envelop coordinate measuring machines to check that a product conforms to a customer's highest specification. These tools allow us to inspect and compare any part to the CAD data, identify any deviations, maximize efficiencies in the manufacturing process, and minimize rework costs.
Coordinate Measuring Machines (CMMs)
Laser Trackers and Scanners
NASA honors Futuramic with prestigious Space Flight Awareness Award.