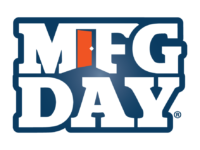 Futuramic is proud to welcome the future of manufacturing to their Detroit and Warren locations to celebrate Manufacturing Day 2017 (MFG Day). Each year, thousands of manufacturers throughout the country open their doors to show the community modern manufacturing in action and to inspire the next generation of skilled workers.
Manufacturing Day is reshaping the image of the industry, stressing the need for skilled labor and highlighting the value and benefits of a career that is truly what you make it. Futuramic has a history of innovation, named after the vintage Oldsmobile, and is currently on the forefront of space exploration – helping to build NASA's most powerful rocket for their mission to Mars.
Last year, a statistical analysis of major events suggests that Manufacturing Day affected 595,341 people, including 267,607 students. Additionally, an estimated 225,000 students reported improved attitudes and perception of manufacturing jobs because of their experience at Manufacturing Day events.
This year, Futuramic is hosting one of 2,255 events around the country. Manufacturing in Michigan has seen a significant reduction in skilled labor that has impacted growth for many Michigan-based companies. But Futuramic is working with community leaders to change that. As a founding member of the Manufacturing Day committee and continuing to work closely with the Macomb & Wayne County Economic Development Committees, Macomb & Wayne County Schools and Technical Colleges, Futuramic is committed to promoting career opportunities and closing the skills gap for future manufacturers. Michigan was one of the few states that saw the largest number of participants in MFG Day in 2016.