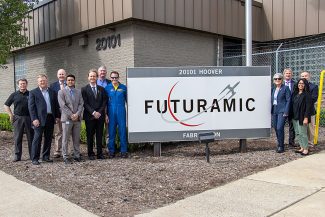 NASA and its partners recently visited Michigan and Futuramic to highlight the work done in the state to build and supply aerospace components for the agency's deep space rocket, the Space Launch System (SLS).
Futuramic was thrilled to welcome a delegation of NASA, Boeing, state, and city representatives, with special guest Astronaut Josh Cassada, to tour its Detroit facility. The tour centered on Futuramic's advanced manufacturing capabilities and the skilled workforce that supports NASA's SLS and its missions to the moon and mars. Throughout the tour Futuramic associates had a chance showcase their expertise while meeting NASA and Boeing representatives as well as Cmdr. Josh Cassada.
After the morning tour, the delegation moved on to Futuramic's Warren headquarters where the media was waiting to meet them and join the tour. Large scale tooling and manufacturing capacities were showcased as more Futuramic associates interacted with the delegation.
In the afternoon a special presentation about the SLS and the Moon 2024 mission were given by NASA and Boeing to illustrate how the company is supporting future missions to the Moon and, ultimately, to Mars.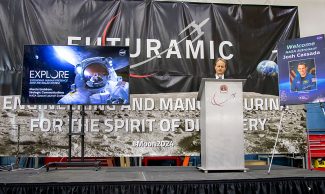 "When you work in human exploration at NASA, your job is to extend human presence deeper into the solar system. That's what we go to work to do every day. That's what you're enabling every single day," said Marcia Lindstrom, NASA's SLS strategic communications manager. "The big news is we're going forward to the moon. We're doing it in 2020 and we're going to stay. We'll land human footprints on the south pole of the moon in 2024, and we've got just the rocket to do that."
Lindstrom said the effort is part of a phased approach to extend our reach from low Earth orbit at the International Space Station, back to a lunar orbit and landing, and eventually to Mars.
The SLS, set for deployment with Artemis 1, the system's first uncrewed mission scheduled for 2020, stands 322 feet tall and weighs 5.7 million pounds. It includes a configuration of four RS-25 engines and two solid rocket boosters that each burn 1,385,000 pounds of solid propellant in their two minutes and 30 seconds of launch operation.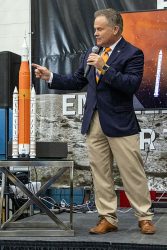 "When the core stage is completely assembled later this year, it will be the largest stage made for a rocket designed to launch humans since the mighty Saturn V that launched the Apollo missions to the Moon 50 years ago," said Ken Dunn, NASA core stage propulsion components manager. "Futuramic and 15 other Michigan companies are helping us build this Moon rocket."
As an example the core stage, which includes flight control avionics, is being built by Boeing at NASA's Michoud Assembly Facility. The project has been fast tracked, and because the core stage was originally designed for vertical construction, a problem arose when facility availability required it to be assembled horizontally. Futuramic helped solve this problem by creating a 60,000-pound tool.
Craig Williams, Boeing's SLS Core Stage Integrated Product Team director, called Futuramic's work "a real heroic effort." Adding, "We started this venture in 2009. You guys have touched every part of this rocket in one way or another, most notably the last 14-16 months, with this fast-tracked tooling we've asked you to develop. You guys were there every step of the way. I want to applaud you. You did fantastic."
In recognition for their continued support and of this recent accomplishment, NASA's Ken Dunn and Boeing's Craig Williams presented Futuramic with its Space Flight Awareness Supplier of the Year Award. It was accepted by Futuramic's President Mark Jurcak, Vice President John Couch, and Global Sales Manager, Rob Flinn on behalf of the company and all its employees.
"Who would have imagined this company would be helping put boots on the moon with eyes to Mars when the founder first opened its doors in 1955?" said John Couch, Futuramic vice president. "It is the realization of the American dream for me, for our employees and for the company."
Cmdr. Josh Cassada, a NASA astronaut scheduled for the second crewed mission of Boeing's Starliner spacecraft, followed by a six-month stint on the International Space Station, personally thanked the Futuramic team. "I'm hearing conversations about the next generation of space flight moving early. That just doesn't happen," Cassada said. "It is a testament to the work you're doing here to allow us to not only get the mission done, but to get it done safely."
Cassada then presented a "Silver Snoopy Award" to Futuramic designer Matt Ososky for his longtime contributions to "outstanding performance, contributing to flight safety and mission success." The award is a sterling silver Snoopy lapel pin that has flown in space on a Space Shuttle mission, plus a certificate of appreciation and commendation letter, both signed by the presenting astronaut. Fewer than 1 percent of the aerospace program workforce receive it annually, making it a special honor to receive this award.
Futuramic President Mark Jurcak ended the event with a brief presentation and stating the company has 280 employees who collectively provide engineering, fabrication, machining, certification and installation services for the aerospace, aircraft, military/defense and automotive industries. "A little bit of everything," Jurcak added. "We're toolmakers here. A toolmaker can build just about anything."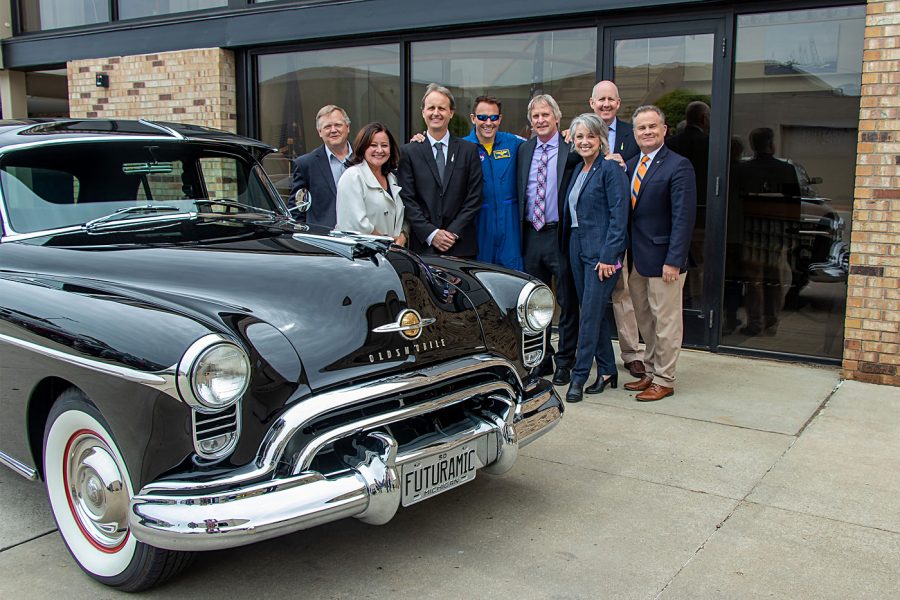 Thanks to everyone at NASA, Boeing, and the media for helping make this such a great event. We were honored to have you.
About Futuramic Tool & Engineering Co.
As a key supplier, Futuramic is helping NASA and Boeing, the SLS prime contractor, to complete assembly of the rocket's core stage for EM-1 at NASA's Michoud Assembly Facility in New Orleans. Most recently, Futuramic designed and completed initial assembly on both simulators for the liquid oxygen tank and liquid hydrogen tank structural test articles. The two test articles have identical structures to flight tanks that are part of the rocket's massive core stage. On a mission, the tanks hold 733,000 gallons of propellant to help power the rocket's four RS-25 engines that will send SLS and Orion to the Moon. During tests, the simulators allow engineers to apply millions of pounds of force to the tanks to test their strength and ensure SLS is safe to fly.