ITAR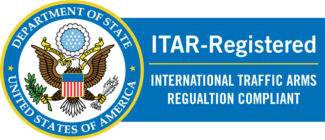 Achieving ITAR registration is evidence of Futurammic's commitment to comply with policies that control the export and import of defense-related articles and services.

The International Traffic in Arms Regulations (ITAR) and the Export Administration Regulations (EAR) are two important United States export control laws that affect the manufacturing, sales and distribution of technology.
The legislation seeks to control access to specific types of technology and the associated data. Its goal is to prevent the disclosure or transfer of sensitive information to a foreign national.
ITR contains a United States Munitions List (USML) of restricted articles and services.  EAR contains a Commerce Control List (CCL) of regulated commercial items, including those items that have both commercial and military applications.
---
Nadcap

Futuramic received accreditation from the National Aerospace and Defense Contractors Accreditation Program (Nadcap) for Heat Treatment and Aerospace Quality System (AC7004) in September 2018. Being Nadcap accredited means that we are compliant with and have been audited to the most stringent quality standards in our industry and are capable of processing aerospace quality components.

A heat treat supplier with Nadcap accreditation is a supplier that has proven to be able to effectively meet the most demanding and stringent customer requirements that exist in the aerospace industry.

Nadcap is recognized as the international quality assurance standard for Special Processes used in the aerospace and defense industries. Nadcap's distinguished list of subscribers includes Airbus, Boeing, General Dynamics, General Electric, Lockheed Martin, Messier-Bugatti-Dowty and United Technologies to name a few. Suppliers desiring to perform special process for any subscriber in support of the aerospace or defense industries must obtain accreditation which is no small undertaking. Futuramic obtained each accreditation after the initial audit (no further audits required) which is a testament to Futuramic's commitment to quality and strength of management.

global $options; foreach ($options as $value) { if (get_settings( $value['id'] ) === FALSE) { $$value['id'] = $value['std']; } else { $$value['id'] = get_settings( $value['id'] ); } }?>