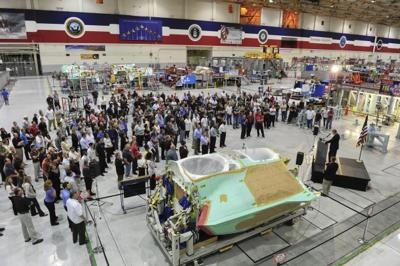 Cockpit Demonstrator Goes On A Road Trip To Michigan
The completion of the 50th center fuselage for the F-35 Joint Strike Fighter was marked by a ceremony at Northrop Grumman's Palmdale Manufacturing Center this week. Company officials praised employees for delivering the center fuselages on time and on budget – achieving a significant milestone early in the program.
"Completing the 50th F-35 center fuselage is something to be proud of; it's a sign of a team that is committed to getting a very difficult job done, and done right," said Mark Tucker, vice president and F-35 program manager for Northrop Grumman's Aerospace Systems sector. "I'm proud that we've reached such an important milestone, but I'm even more proud of how we've done it. This team is always identifying ways to do an even better job of building the world's most sophisticated multirole fighter. And, 50 ship sets in, it's working."
As a principal and founding member of the F-35 industry team led by Lockheed Martin, Northrop Grumman is responsible for the design and production of center fuselages for all three variants of F-35 aircraft: conventional takeoff and landing (CTOL); short takeoff, vertical landing (STOVL); and a carrier variant. Northrop Grumman completes the F-35 center fuselages – the core structures around which the aircraft are built – at the Palmdale facility. The center fuselages then are shipped to Lockheed Martin in Fort Worth, Texas, where they are integrated into the rest of the aircraft.
In addition to producing the F-35 center fuselage, Northrop Grumman also designs and produces the aircraft's radar and other key avionics, including electro-optical and communications subsystems; develops mission systems and mission-planning software; leads the team's development of pilot and maintenance training system course materials; and manages the use, support and maintenance of low-observable technologies.
The prime contractor, meanwhile, has taken the airplane's cockpit demonstrator on the road, showing it off to employees; federal, state and local elected officials; Detroit-area suppliers and the news media at Futuramic Tool and Engineering Company in Warren, MI, a local supplier for the F-35 program.
"All of us here at Futuramic Tool and Engineering Company are very proud of the work we do on the F-35 program," said Mark Jurcak, President of Futuramic Tool and Engineering. "We appreciate this opportunity to experience first-hand why this fighter is so important to our nation's future. Programs like the F-35 are not only vital to our country's national defense, but are helping to bring high-tech, family sustaining jobs to companies all across Michigan. Our company is living proof of this fact."
During the event, executives and employees from Futuramic and other F-35 supplier companies, elected officials and community leaders received an update on the status of the program and had the opportunity to "fly" the F-35 cockpit demonstrator. Through this experience, they were able to see firsthand how advanced stealth, fighter agility and integrated operations make the F-35 the most capable multi-role fighter in the world. The cockpit is visually and audibly interactive and provides a realistic look at the F-35's performance, air-to-air and air-to-ground capabilities, sophisticated sensor fusion and advanced computational capabilities.
"The F-35 program will provide the men and women of our Armed Forces with the tools they need to maintain America's air dominance, and Michigan plays a very special role in that effort," said Stephen Callaghan, Director, F-35 Washington Operations, Lockheed Martin. "Even at today's early production levels, the F-35 program generates more than 2,500 jobs and $197 million annually in the state of Michigan. We're proud to share the experience of flying this 5th Generation fighter with the men and women who are critical to its development and manufacturing."
U.S. Congressional Reps. Sander Levin (D-12th district), Gary Peters (D-9th district), and Hansen Clarke (D-13th district) also participated in the event.
FMI: www.lockheedmartin.com, www.northropgurmman.com