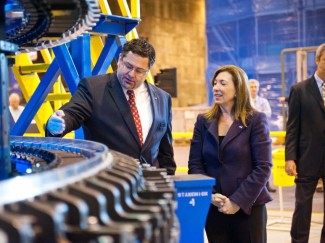 In February 2012, Space Launch System Program Manager Todd May shares SLS progress on the core stage with NASA Deputy Associate Administrator Lori Garver during her visit to NASA's Michoud Assembly Facility in New Orleans. The Boeing Company of Huntsville, Ala., is developing the core stage for SLS.
NASA Spaceflight Partner Futuramic Tool and Engineering Co. built and installed tooling in the Michoud plant for the new NASA SLS program.
Article From wwltv.com
Originally Posted: May 3, 2013
NEW ORLEANS – NASA Deputy Administrator Lori Garver checked out progress on major portions of the Orion spacecraft, and the huge Space Launch System rocket that will launch the capsule to the Moon and Mars during a visit Friday.

"It's great to see the progress here," Garver said. "It's been about a year since I've been here, and really I couldn't be more pleased."

Lockheed Martin is working on the Orion capsule, while Boeing has huge welding machines for the Space Launch System rocket. Garver is pleased to see new activity at Michoud after the Space Shuttle External Tank program shut down.
To read the full article please visit wwltv.com