For the past 6+ years Futuramic Tool and Engineering has been proud to be a Boeing partner in the construction of the Space Launch System (SLS) the most powerful rocket ever built. Futuramic has delivered eight major tools and numerous smaller tools. In addition Futuramic has manufactured some of the components that will fly into space. In addition to the tooling and the flight hardware Futuramic has also built five of the structural simulators that will be used in the testing of the flight hardware. The newly released NASA video shows just a small portion of the results of all this work. The recent shipment from the Michoud Assembly Facility (MAF) in New Orleans LA to the Marshall Space Flight Center in Huntsville AL on the NASA Pegasus Barge is very special for Futuramic. Virtually every piece being shipped for test was made by Futuramic or made on tooling supplied by Futuramic. The video shows the Engine Section and the simulator being merged using the OHMEs and Cell "A" platforms.
At 19 seconds into the video there is a nice shot of the Futuramic built Stacking Cell "A" Fixed and removable platforms, the Structural Test Simulator and OHME Lifting Equipment. The Lifting equipment required that Futuramic build a custom piece of test equipment to perform the proof loads due to the high forces required to perform the test.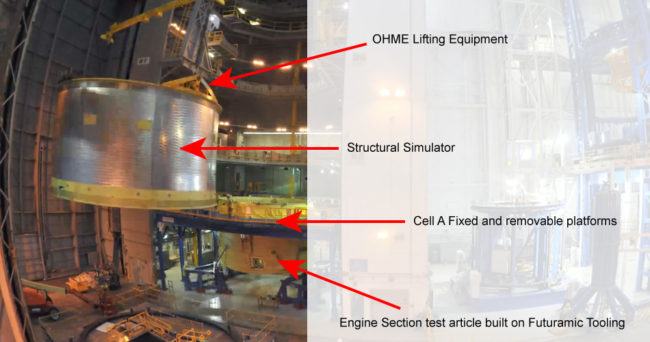 At 29 seconds you can see the complete assembly being rolled out to the Pegasus barge. The Engine Section was built on the Engine Section Final Assembly Jig (FAJ) built by Futuramic. The Engine Section FAJ is a large but also very tight tolerance. Installed in the Engine Section is the Thrust Structure which was made by Futuramic. The Thrust Structure carries the primary load of the engines as the rocket is launched.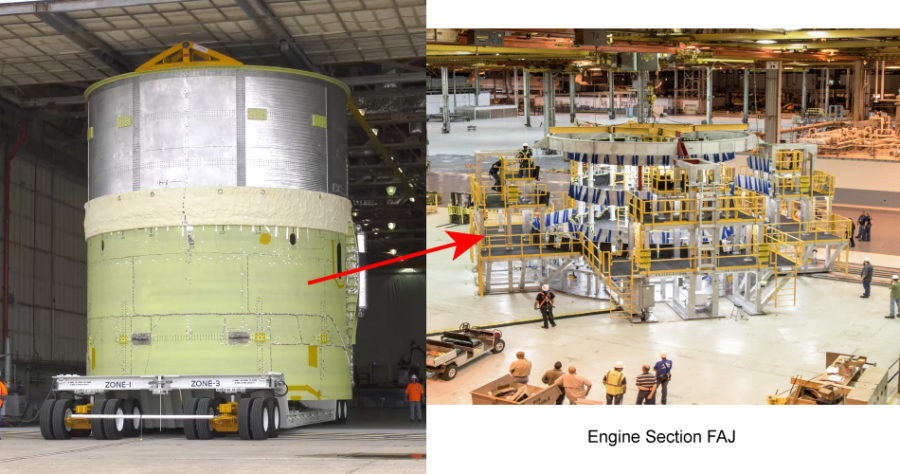 Futuramic is proud of our contribution to the SLS and congratulates Boeing and NASA on this great accomplishment!
For More infomation: SLS Engine Section Test Article Arrives at Marshall on NASA Barge Pegasus
Video From NASA Image and Video Library
Originally Posted: May 16, 2017
"The NASA barge Pegasus made it's first trip to NASA's Marshall Space Flight Center in Huntsville, Alabama on May 15. It arrived carrying the first piece of Space Launch System hardware built at NASA's Michoud Assembly Facility in New Orleans. The barge left Michoud on April 28 with the core stage engine section test article, traveling 1,240 miles by river to Marshall. The rocket's engine section is the bottom of the core stage and houses the four RS-25 engines. The engine section test article will be moved to Marshall's Building 4619 where it will be tested. The bottom part of the test article is structurally the same as the engine section that will be flown as part of the SLS core stage. The shiny metal top part simulates the rocket's liquid hydrogen tank, which is the fuel tank that joins to the engine section. The test article will endure tests that pull, push, and bend it, subjecting it to millions of pounds of force. This ensures the structure can withstand the incredible stresses produced by the 8.8 million pounds of thrust during launch and ascent."