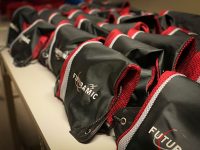 Futuramic opened its doors again this year in celebration of National Manufacturing Day and to help inspire future generations of manufacturers on Friday, October 4. Students from Center Line and Davis Aerospace Technical High Schools visited the Detroit and Warren locations to learn about modern manufacturing and tour facilities.
This year, students were given a tour of the Futuramic facilities helping to build the Space Launch System (SLS), NASA's most powerful rocket for their missions to the moon and mars, while also viewing an interactive presentation on turnkey electrical control integrations by Intec.
Manufacturing Day's mission is to reshape the image of the industry and introduce future generations to manufacturing careers of today. Careers in this industry have some of the highest combined salaries and benefits in the world and are instrumental in advancing the way in which we live. It's always an incredible opportunity to showcase the amazing work manufacturers do on a daily basis and to educate students, community members, media and policymakers on how integral manufacturing is to the local, national and global economy.
Futuramic was one of over 2,000 events nationwide participating in MFG Day 2019. The company has been committed to raising awareness about the need for skilled labor by working with local and state government as well as high schools and colleges throughout Michigan.