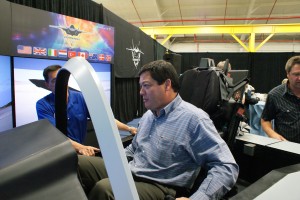 The most expensive acquisition program under way at the U.S. Department of Defense directly benefits 18 suppliers in metro Detroit and 27 across Michigan, with an annual economic impact of nearly $200 million, its prime contractor reported today at an event in Warren.
Steve Callaghan, director of the Washington operations of the F-35 Lightning II program at Bethesda, Md.-based Lockheed Martin Corp., said the economic benefit to Michigan could grow. The ramp-up would come when the aircraft now in testing and pre-operational training enters full-rate production.
Callaghan and other Lockheed executives shared the impact of the Joint Strike Fighter during a visit with local elected officials and employees at Warren-based Futuramic Tool & Engineering Co. Futuramic supplies tooling and other equipment for assembly and transporting components of the F-35.
He estimated Tuesday that the fighter contract, awarded to Lockheed in late 2001 and expected to be operations-ready for the Armed Services within four years, benefits 1,300 supplier companies in 47 states. It has a $12 billion economic impact tied directly or indirectly to more than 120,000 jobs nationwide.
Of these, about 2,500 are jobs generated through 27 companies in Michigan, although Lockheed's most current subcontractor and supplier list does not include Kuka Systems Corp. North America. Kuka received a contract for more than $100 million in late 2009 to build an integrated assembly line in Macomb County for F-35 subcontractor Northrop Grumman Corp.
Others include Visioneering Inc. in Fraser, Shelby Township-based Models and Tools Inc. and Troy-based Kelly Services Inc. (Nasdaq: KELYA, KELYB). The F-35 is a family of three models of single-seat fighter aircraft, designed to replace the A-10, F-16, F-18, AV-8B Harrier jump jet and other older fighters for the U.S. Navy, Marine Corps and in eight U.S. allied nations.
Futuramic Tool President Mark Jurcak said his company was primarily an automotive supplier toFord Motor Co. until the automaker began sourcing much of its equipment production work in Mexico in the 1990s. This prompted Futuramic management to begin diversifying into aerospace and defense contracting.
He now estimates that more than 70 percent of the company's sales volume is in aerospace, but primarily in commercial aircraft contracts with manufacturers such as Boeing Co., Bombardier Inc.and Pratt & Whitney. The F-35 is a smaller component of its aerospace volume, but he said that might increase as a share of business once the aircraft moves into full-rate production.
Futuramic employs a total of 180 people between its Warren headquarters and training center and subsidiary Capital Welding Inc. in Southfield, which has about 30 employees, Jurcak said.
The company estimates annual revenue is about $40 million and defense is about 30 percent of its aerospace sales volume, meaning the F-35 could have a multimillion-dollar yearly impact on its top line.
Most recent estimates place the total contract value of F-35 at more than $370 million from initial research and development early last decade through the completion of full-rate production in the mid-2030s. That makes it the Pentagon's largest single pending procurement program.
The department is expected to face up to $350 billion in budget cuts by 2021 under a set of spending cuts Congress must approve by late December under the legislation to raise the federal debt ceiling. If it cannot reach agreement on those budget cuts, another set of automatic cuts take effect that trim Defense's budget an additional $500 billion over the same period.
"But here's the issue: The F-35 is needed," said U.S. Rep. Sander Levin, who attended the Futuramic presentation. "It's replacing an aging fleet of legacy military aircraft that are only going to get more expensive to maintain if we don't go forward."
Callaghan said it's still "very difficult to determine" whether the debt ceiling deal is going to have an impact on the F-35 program, but he agreed that legacy costs of keeping 1970s and 1980s aircraft make a strong business case for the F-35.
"We are talking about a generation of aircraft that could remain in service over the next 50 years," he said. "There is some evidence that maintaining and upgrading some of the current generation fleets over (the same period) could be four times the cost of an F-35."
He estimated that unit costs on the next vehicle would be about $65 million after the project enters full-rate production, although current unit costs are much higher. Lockheed this year delivered two production units to Edwards Air Force Base in California for testing and two to Eglin Air Force Base in Florida for pre-combat training, in addition to four training models delivered earlier.
An additional 63 aircraft are in some stage of production right now, as the company completes one to two aircraft per month. All told, the company could reach 18-20 units per month within seven years and complete 3,100 units for the Navy, Marine Corps and allied countries by 2036.
Lockheed officials recently completed a similar visit on the F-35 program in Rockford, Ill., and expect to visit the Milwaukee and Cincinnati areas in the next month.