Detroit, MI October 14, 2019

To demonstrate our continued commitment to quality, we would like to announce that we have been successful in achieving Nadcap accreditation for Welding. This accreditation means that Futuramic is in line with NADCAP's standardized approach to quality assurance, which replaces routine auditing with more in-depth, technically superior, special process audits, and it demonstrates Futuramics's commitment to quality and safety while also providing increased customer satisfaction.
Upon receiving the accreditation, Vice President John Couch expressed that "Futuramic is now on the Nadcap accredited special process list for welding, joining our heat treating and Aerospace Quality System qualifications. Quality is at the foundation of all our operations and this will help to cement customer confidence in our welding processes as we aim to exceed industry standards."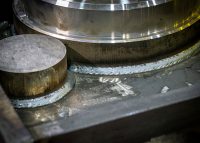 The aim of the Nadcap program is to assess process capability for compliance to industry standards and customer requirements. By achieving Nadcap accreditation, Futuramic has demonstrated their compliance.
"Compliance via Nadcap accreditation is a milestone in demonstrating manufacturing excellence." said Joe Pinto, Executive Vice President and Chief Operating Officer at the Performance Review Institute. "By obtaining Nadcap in Welding, Futuramic has proved to the industry that they are committed to quality and aerospace safety."
Nadcap is recognized as the international quality assurance standard for Special Processes used in the aerospace and defense industries. Nadcap's distinguished list of subscribers includes Airbus, Boeing, General Dynamics, General Electric, Lockheed Martin, Messier-Bugatti-Dowty and United Technologies to name a few. Suppliers desiring to perform special process for any subscriber in support of the aerospace or defense industries must obtain accreditation which is no small undertaking. Futuramic obtained this accreditation after the initial audit (no further audits required) which is a testament to Futuramic's commitment to quality and strength of management.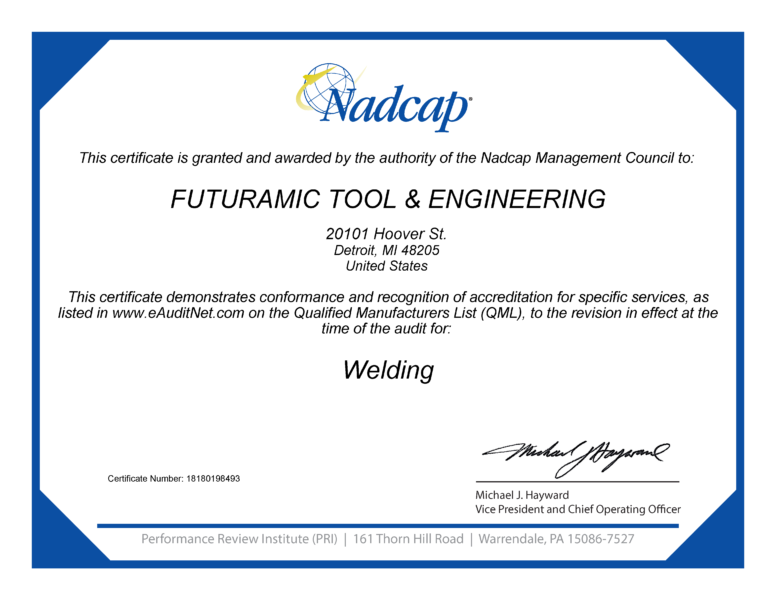 About Futuramic
Founded in 1955, Futuramic built its reputation on a commitment to quality, on time delivery, customer service, and competitive prices. As a full-service design and build company, Futuramic specializes in taking a customer's requirements and processing them through design, build, inspection, and installation. In 2013 and 2017 the company received the Small Business Subcontractor Excellence Award from NASA's Marshall Center. In 2018 the company was recognized by Lockheed Martin Aeronautics as an Elite Top Performing Supplier for 2017. Futuramic is an ITAR Registered company.
About Nadcap
Created in 1990 by SAE Inc., Nadcap is administered by the not-for-profit Performance Review Institute. PRI exists to advance the interests of the mobility and related industries through development of performance standards and administration of quality assurance, accreditation, and certification programs as well as related activities for the benefit of industry, government, and the general public. PRI works closely with industry to understand their emerging needs and offers customized solutions in response. Learn more at www.pri-network.org or contact PRI at PRINadcap@sae.org