On May 3rd, 2018, Futuramic was thrilled to welcome Detroit's Mayor Mike Duggan for a facilities tour and discussion on economic and business development in the city of Detroit.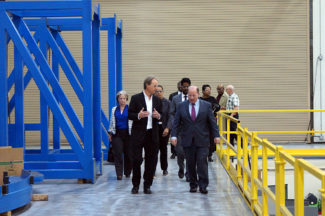 Mayor  Duggan met with Futuramic's Vice President John Couch and Tooling Manager Bob Kimbal to see the tooling operations at Futuramic's Detroit campus and learn more about Futuramic's involvement with the city of Detroit and Michigan. Afterwards, Mayor Duggan and his staff stayed on to discuss the jobs, the importance of a skilled workforce, how businesses can help Detroit, and what Detroit is doing for local business and residents.
Mike Duggan was elected Mayor of the City of Detroit on November 5, 2013, and re-elected to a second term on November 7, 2017. Duggan, born in Detroit, has spent his entire career working in the city to solve some of the most complex issues facing Detroiters, including crime, blight and access to jobs.
Mayor Mike Duggan
Website: www.detroitmi.gov/Government/Mayors-Office/Administration
Facebook: facebook.com/MayorMikeDuggan
Twitter: @MayorMikeDuggan
Instagram: instagram.com/michaeleduggan